Cloud native, direct response marketing platform for newsletter publishing company
A leading financial newsletter publishing company turned to Netesenz for development of a direct response marketing system to provide powerful content management and integrated hyper targeted marketing tools for its editors and marketers.

Problem
Seeking to drive business growth through streamlining its marketing operations, our client needed a direct response marketing and publishing platform developed to sell its newsletters and other digital products. The existing solution was using legacy relational databases, homegrown CRM, multiple off the shelf products, and was hosted on premise. Setting up marketing campaigns, sales funnels, and onboarding new customers became time consuming and error prone slowing down the marketing operations. Our client wanted a data driven, flexible, and reliable system that would enable marketers and customer support teams to focus on their marketing and administration tasks, freeing them from the hassle of managing multiple systems. The new system was envisioned to fuel the necessary growth for our client to go public. Netesenz turned out to be the best fit for tackling the challenge because of our proficiency in cloud development and our experience in the Marketing and Advertising Industry.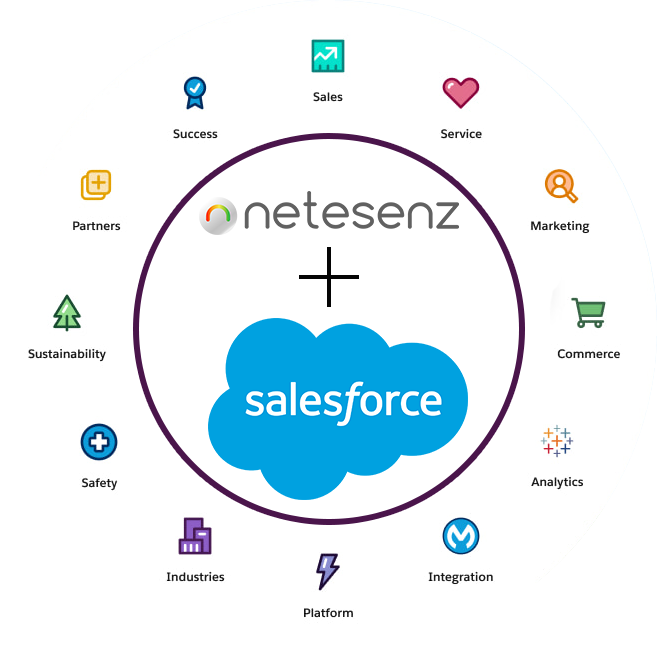 Solution
Netesenz built a cloud native digital marketing and publishing platform using Salesforce as the single source of truth. Customer had a home grown CRM system and Salesforce was selected as the new CRM platform because of its PaaS (Platform as a Service) capabilities. Our Salesforce implementation team helped the client pick the right edition of Salesforce and in evaluating third party billing platforms crucial to its recurring subscription business model. Our admins customized the Salesforce ORG to suit the client's business needs.
Technology Stack
Salesforce Sales, Service, and Marketing cloud were used to provide the 360Degree View of the customer and acted as the single source of truth. Chargent Subscription platform was used to manage recurring billing and other complex subscription scenarios. Apex, Visualforce and Typescript were used to build the custom Salesforce applications. Low-code ETL/ELT tools like Talend and StitchData were used for data migration and data pipelines. Netesenz data engineering team built a data lake in AWS using S3, Kinesis and Redshift for downstream processing of Salesforce data by business intelligence and machine learning teams.
Results
Armed with the new platform, marketers were able to generate hyper targeted marketing campaigns quickly and make data driven decisions. Customer Service team was able to onboard and service customers quickly reducing customer churn. TeleSales team was able to convert leads quickly. Overall the new platform proved capable of yielding a high ROI and driving competitive advantage for our Client. The company has been hitting an exponential growth curve for years after the system implementation.